A PEACEFUL REFUGE WITH A COSMOPOLITAN VIBE
The luxurious resort, Aeolos Resort, in Mykonos Town, is a place of exceptional aesthetics that has conquered travelers' hearts from around the world for the fine and well-kept environment, the numerous and perfect amenities, and the high level of services provided.
Combining the traditional Cycladic style with minimal decorative touches in the public areas, rooms, and suites, the owners managed to create a cozy and hospitable hotel complex, with 105 luxurious rooms, 3 heated swimming pools, 3 Jacuzzis, a fine-dining restaurant, and 3 pool bars, with the exceptional care to enjoy the most relaxing & peaceful holidays in an ideal location with a unique sea view!
READ MORE ABOUT US
The Aeolos Resort complex, within an area of 4,000 square meters, "is expanded" in three different wings, the Central [Main Section], the Daylight Section, and the Sunset section, which is perfectly integrated into the Cycladic environment, reminiscent of the narrow alleys and houses of Mykonos.
Each wing is autonomous, as it has its own heated swimming pool, Jacuzzi as well as a fantastic bar but all three together are part of a perfect architectural ensemble, reminiscent of a Cycladic settlement, where the buildings are connected with whitewashed, paved paths and decorated with flowering bougainvillea, palm trees, and landscaped gardens.
Customers can use the facilities of the 3 wings, such as the Jacuzzi, restaurants, pool bar, umbrellas & sun loungers, enjoying a new, unique experience every day [priority in the sun loungers/umbrellas is given to the residents of each wing].
Aeolos Resort is a hotel complex of 105 luxurious rooms & suites, divided into three separate wings with purely Cycladic architecture.
Depending on the wing, rooms are located on the ground floor or 1st floor and have a balcony or terrace with a garden, pool, or sea view. In the Main Section [main wing], there are the most affordable rooms [32 double rooms & suites], in the Daylight wing, 38 double rooms and suites with sea or garden view, in the Sunset wing, 30 rooms [double & triple superior suites].
Whichever you choose, you will enjoy perfect services & amenities. The fully renovated and stylish rooms are designed with meticulous attention to detail, featuring fine furnishings, quality linen, mini-fridge, kettle & tea/coffee maker, LED satellite TV, free Wi-Fi Internet, toiletries, iron, ironing board, while a baby cot is provided, upon request.
Lobby
Breakfast Room/Restaurant
3 Bars/Snack bars
3 Outdoor Heated Swimming Pools & 3 Jacuzzis
Garden
Sun loungers/tables/umbrellas in the area around the pools
Lounge with satellite TV
Leisure zone [Library]
Luggage storage
Safety deposit box
Private & Secure Parking [no reservation required]

Extensive Buffet Breakfast
24-hour reception
Express Check-In/Check-out
Room service
Wi-Fi Internet [free of charge]
Safety deposit box
Private & Secure Parking [no reservation required]
Bus stop [nearby]
Free transfer from/to the airport/port, from 07:00 to 23:00
Pets allowed upon request [No additional charge]

Lunch or dinner in the restaurant
Medical Services
Childcare
Diving/Fishing/Water sports excursions
Car & Motorbike Rental
Local tours
Flower Orders
Massage/Hairdressing/Beauty Services
Ironing/Laundry service
Restaurant
Fine Dining
Photo Gallery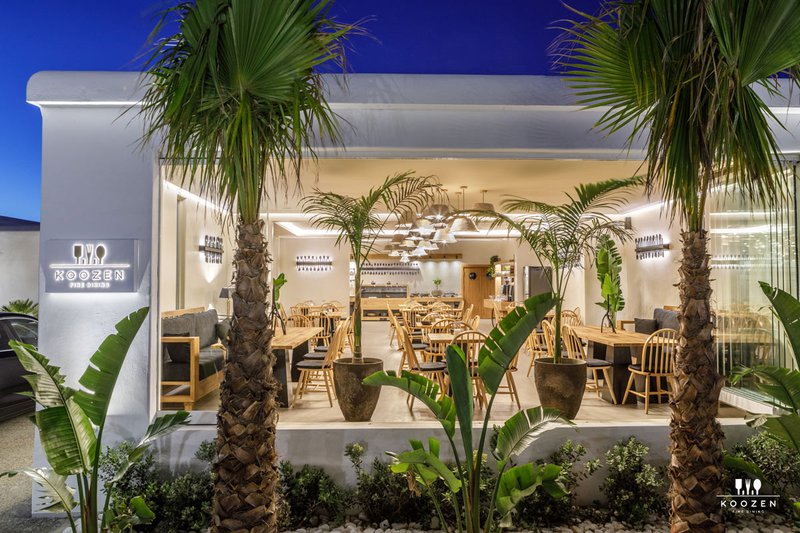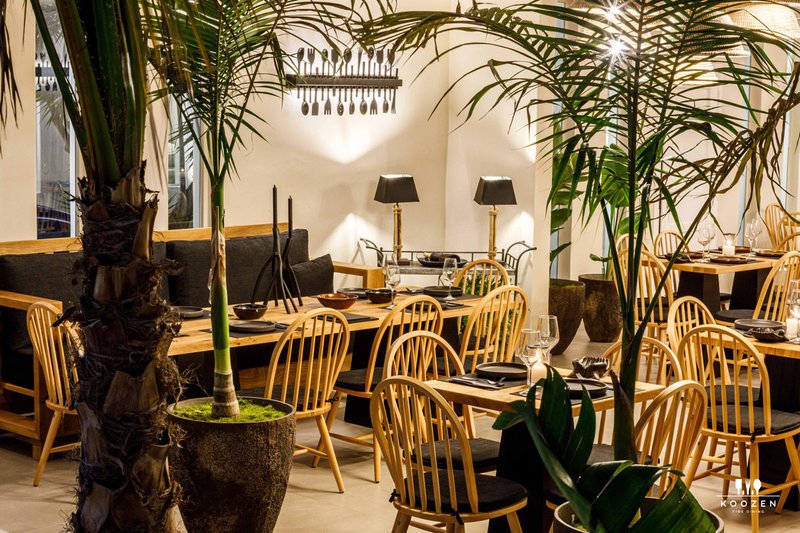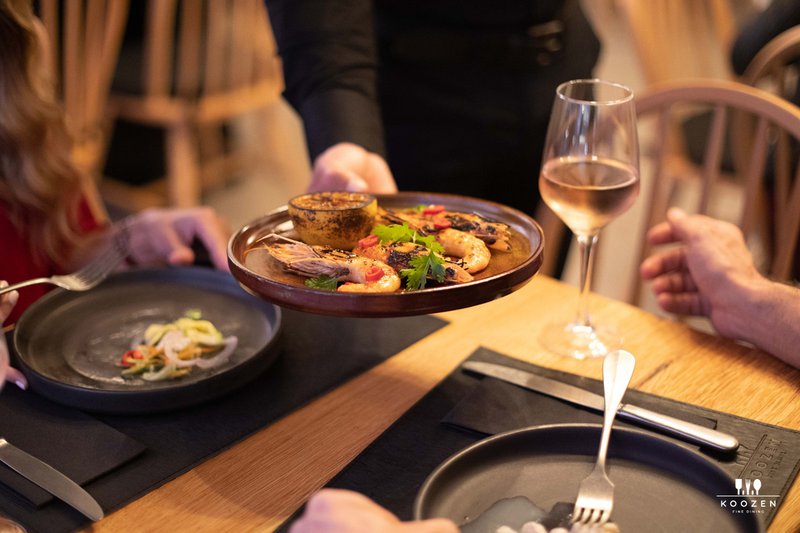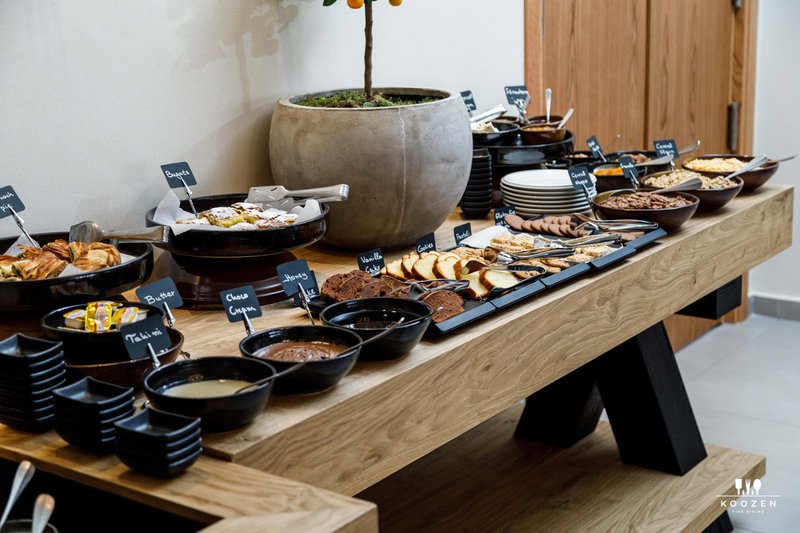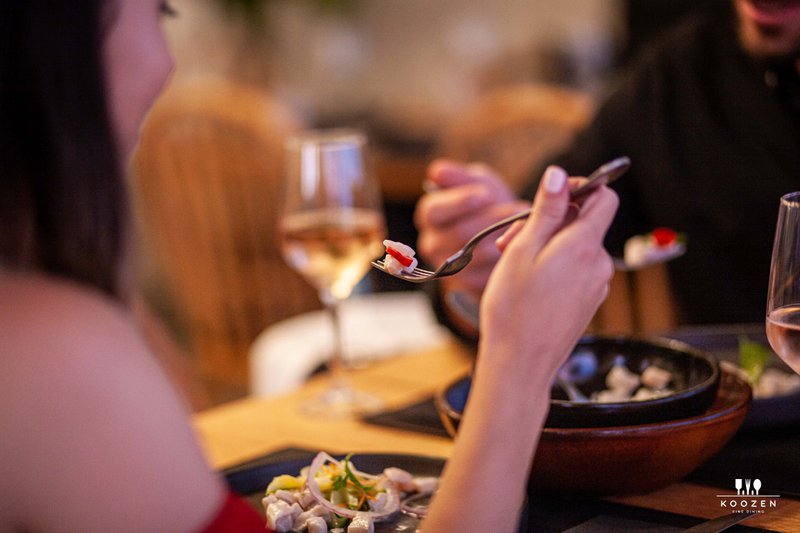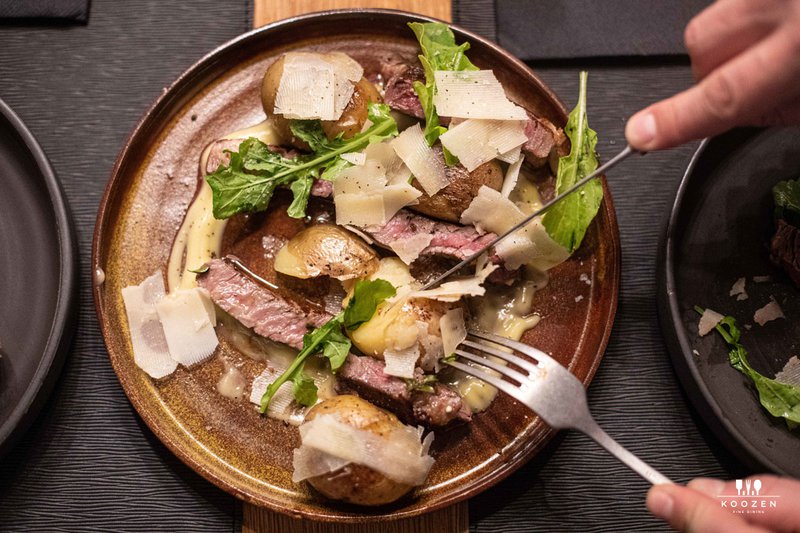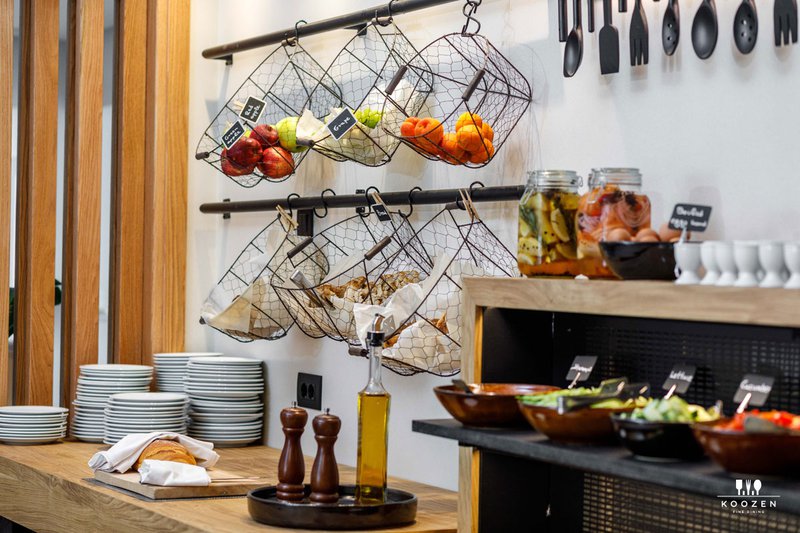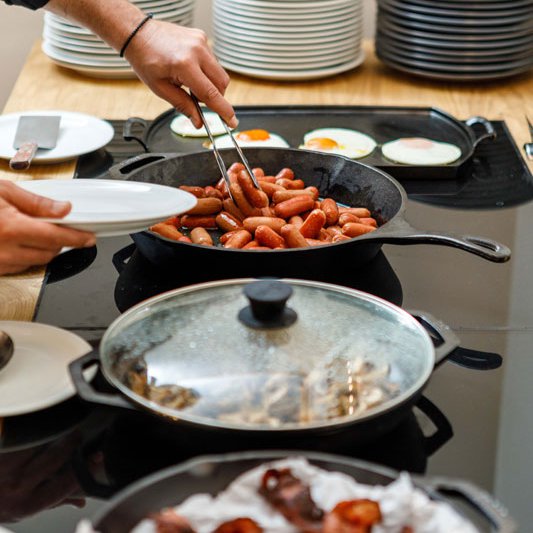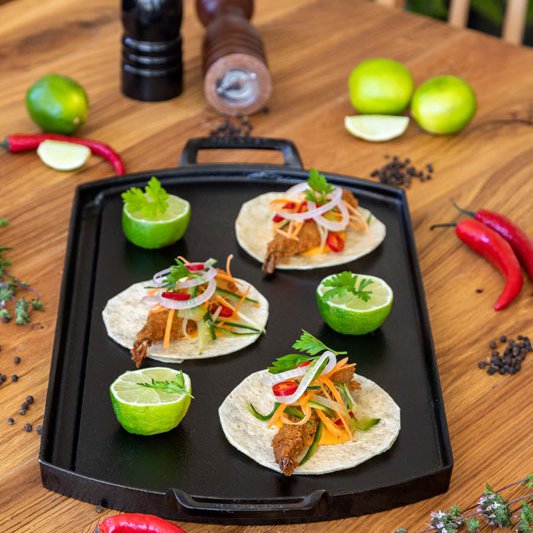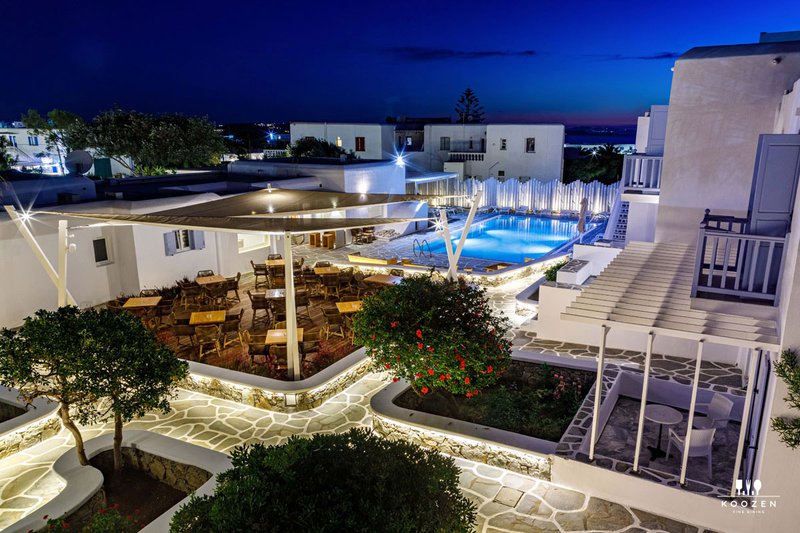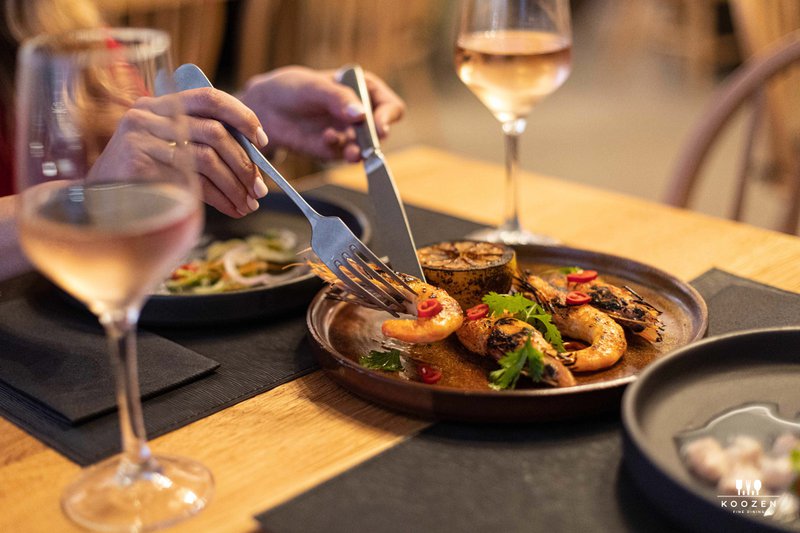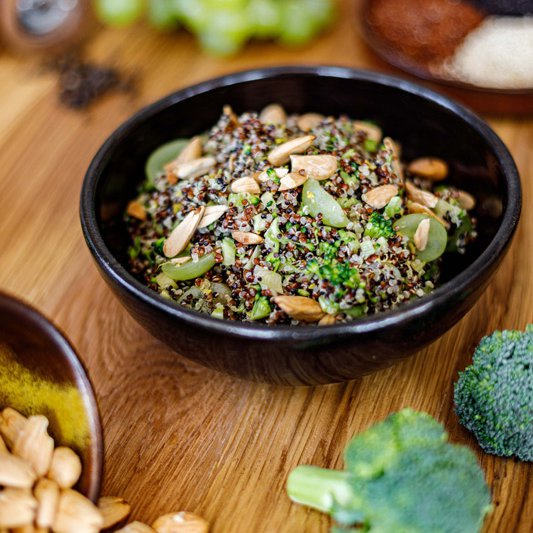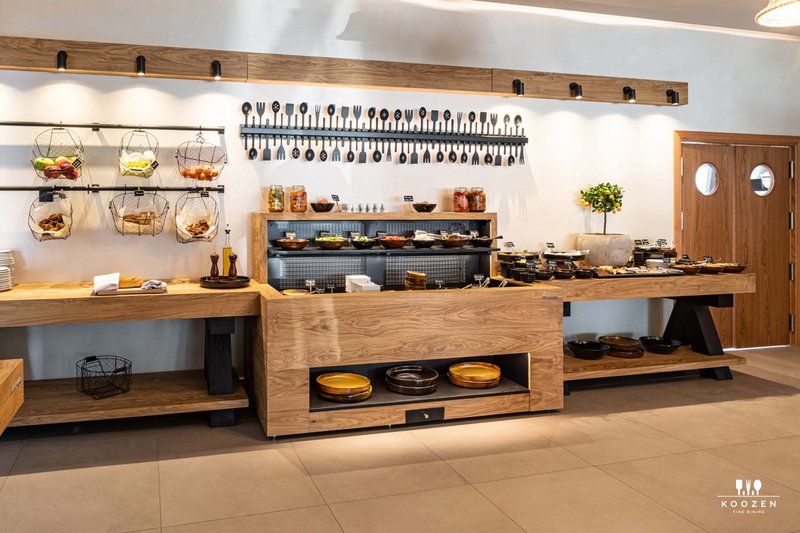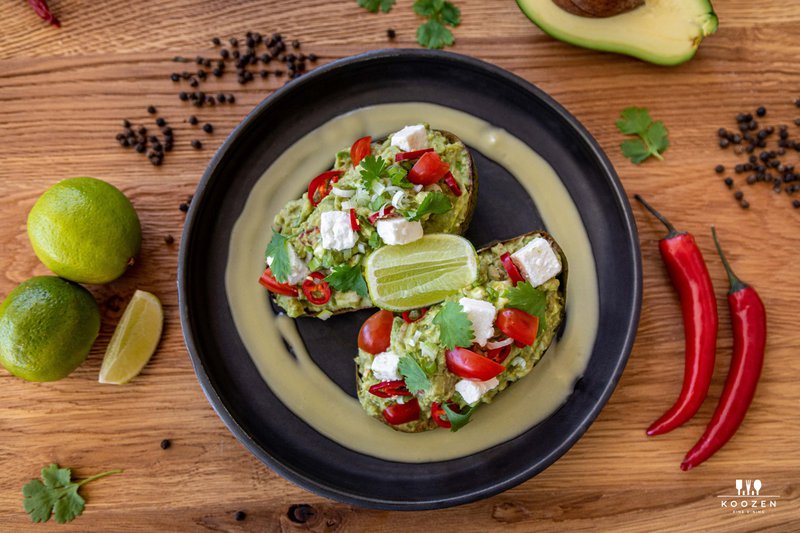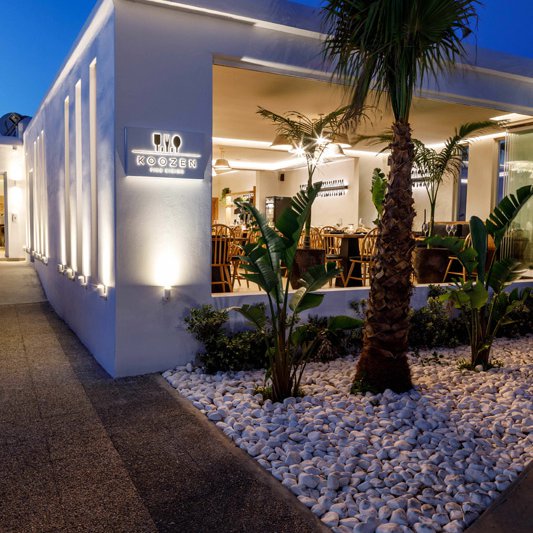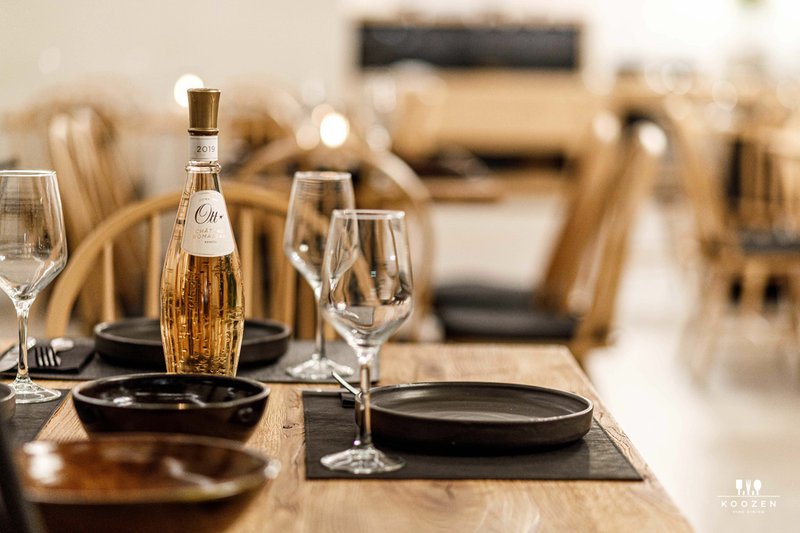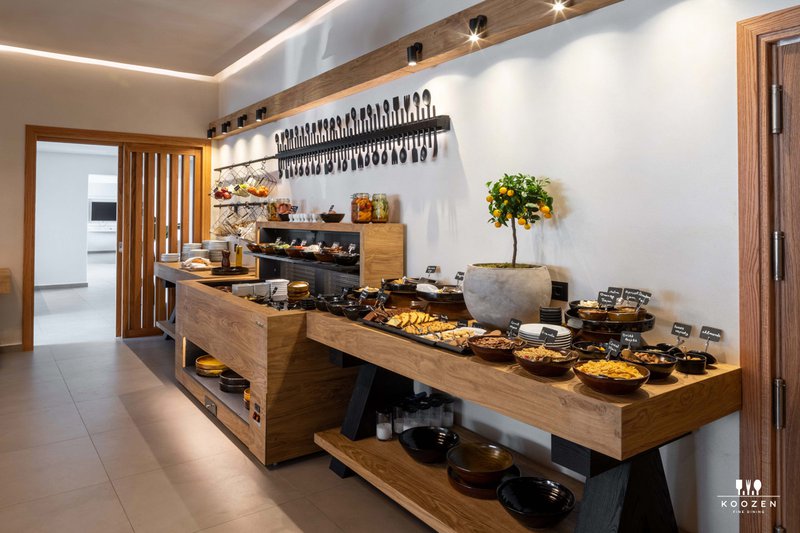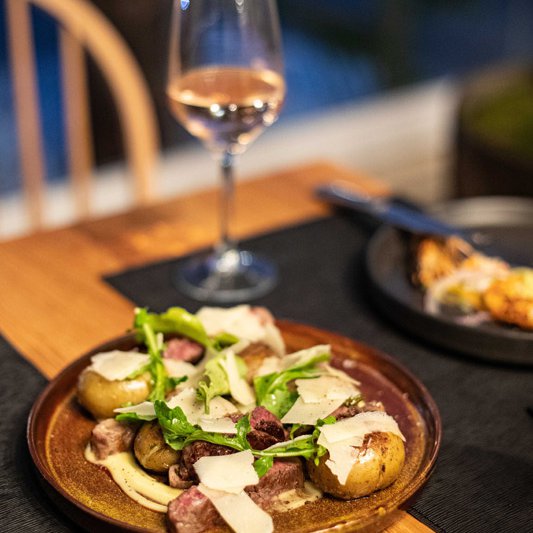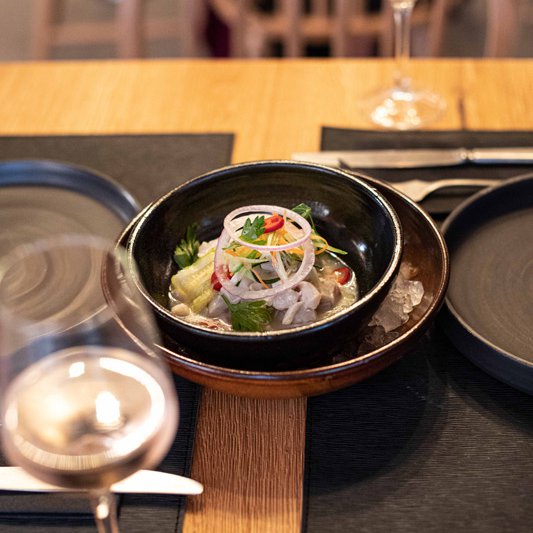 We proudly present our fine dining restaurant, KOOZEN, located in the Main Section of the hotel. One of the best Greek chefs has been chosen to present a variety of options from a simple lunch to a total fine dining experience.
All dishes are prepared daily using only the finest ingredients available. KOOZEN promises a delicious culinary journey through its exceptional cuisine and delicious tastes, and offers something for everyone. There are breakfast and brunch options from 08.00am to 15.30pm. The all-day menu is served from 12.00am to 19.00pm, and the fine dining experience starts from 19.00pm, and serves until 22.30pm. Come and join us at KOOZEN!